TRIPS
Some of us are strictly warm water divers. Some love the cold. Most are water temperature-agnostic. Whatever you prefer, the Marin Scuba Club promotes safe diving. Remember to plan your dive based on the conditions, be aware of your skills and equipment and stay with your buddy.
January 2024, Philippines, 2 weeks – Eight members are confirmed. Arrive Manila by January 11th. January 12th: van transfer and stay at the Buceo Aniloa Beach & Dive Resort (6 nights with 4 days unlimited diving). Accommodations, transfers, breakfast and 15 dives are $1010 for a single and $825 for a double. On January 18th, travel to El Galleon Dive Resort. Seven nights' accommodations, 6 days unlimited diving, transfers and breakfast $1380 for a single and $1162 for a double. Not included in above pricing is airfare, tips, Nitrox, rental gear, etc. Both resorts are a few hours from Manila and still have space available. A limited number of the most desirable poolside rooms remain. Contact Barb if interested –– space is still available.
October 26 – November 5, 2023, Roatan – Thirteen members are now confirmed for 10 nights' accommodations at The Splash Inn. 16 dives and breakfast are $1,225 for double occupancy and  $1,666 single occupancy each. Airfare is separate. Contact Barb if interested. There are a few good rooms still available.
August 22 – August 30, Scuba Club Cozumel. One trip to Cozumel this year wasn't enough, so Jeffrey, Simma and Ellen are planning a seven-night trip with five days of two-tank dives. Fly to Houston on 8/22; Cozumel on 8/23. Single occupancy $1234; double occupancy $993 per person. Contact Ellen if interested.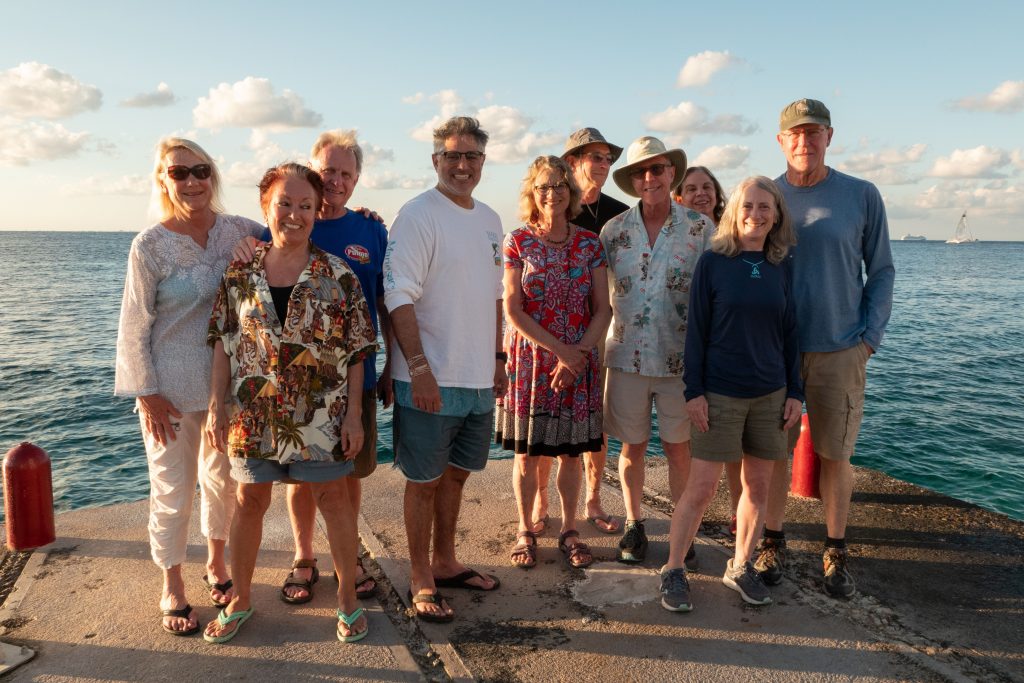 January 6-13 2023 Cozumel Diving: We just got back from our latest adventure –– this one was to Cozumel, Mexico. It included 5 days of 2-tank dives, unlimited shore diving, breakfast and lunch for $856.85 per person at Scuba Club Cozumel. We paid $55 US for one night dive. You had to book your own airfare but most of us flew on American Airlines. We had a waiting list and no cancellations. Everyone had a terrific time! Watch Ric Miller's videos and stills: https://floatinghome.smugmug.com/Cozumel-Diving-2023/
February 2022 Monterey Diving: Barb booked the Beachhopper II for Fri/Sat, Feb 11/12 and Fri/Sat, Feb 18/19.  She could add a Sunday with a minimum of 4 divers and some shore diving.
May 10-16, 2022: Big Sur Dive Trip: CANCELLED — BOAT PROPS BEING REPAIRED.
Join Barb for a Channel Islands Expeditions "Vision liveaboard" that departs Monterey on May 10th, then returns to Morro Bay on May 16th with an included shuttle back to Monterey. Four+ days of diving. Contact Barb Wambach for details.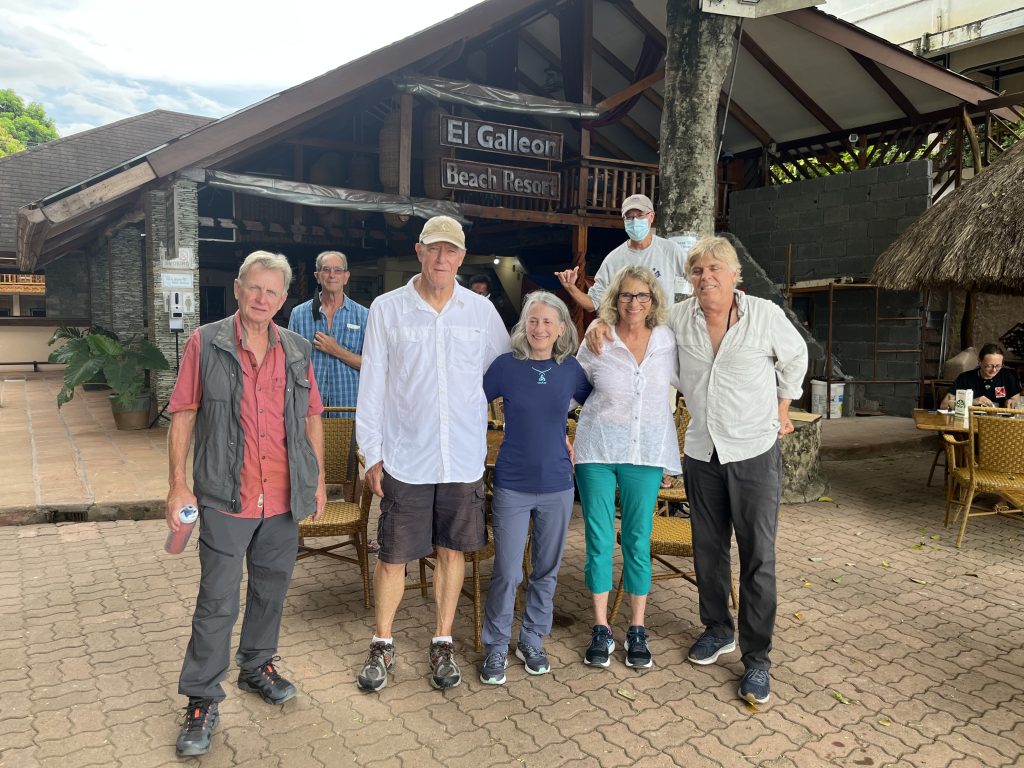 May 6-15: Philippines El Galleon Dive Resort in Puerto Galera: Join Ellen at this land-based resort for 9 nights. Boats depart 4 times daily for a short run to dive sites. Breakfast is included; airfare and transfers are not. Other fees: 5% charge for credit cards, $16 daily for rental gear; $66 per week for Nitrox, extra charge for Verde Island dive. THIS TRIP HAS BEEN COMPLETED. Contact Ellen Sakoloff for details: relations@marinscubaclub.org
(Pictured, L to R: Ric Miller, Jeffrey Zankel, Steve Ralston, Donna Lohrmann, Kerwin Louis, Ellen Sakoloff and Patrick Ritter) 
Summer 2022 Dive 'N Dine: August 11 – 14: The MSC has secured the fantastic Russian Gulch group campsite for this annual event loved by divers, snorkelers, and other members.
Summer 2022 Tahoe Dive: Emerald Bay: CANCELLED. Join Ken Carter for some biking, hiking, and high-altitude diving in Lake Tahoe. The campsite needs to be booked urgently for July so let him know if you can join, ASAP.
Sunday, Oct 16, Family Snorkel Trip: We will meet at San Carlos Beach in Monterey around 9:30. We will make a latish start to make it easier for family members and young ones. We expect to snorkel breakwater and middle reef until around noon. We will have a picnic and maybe go to the Aquarium for the afternoon. Please RSVP to Ken Carter (krc17@caa.columbia.edu) in case weather and plans change.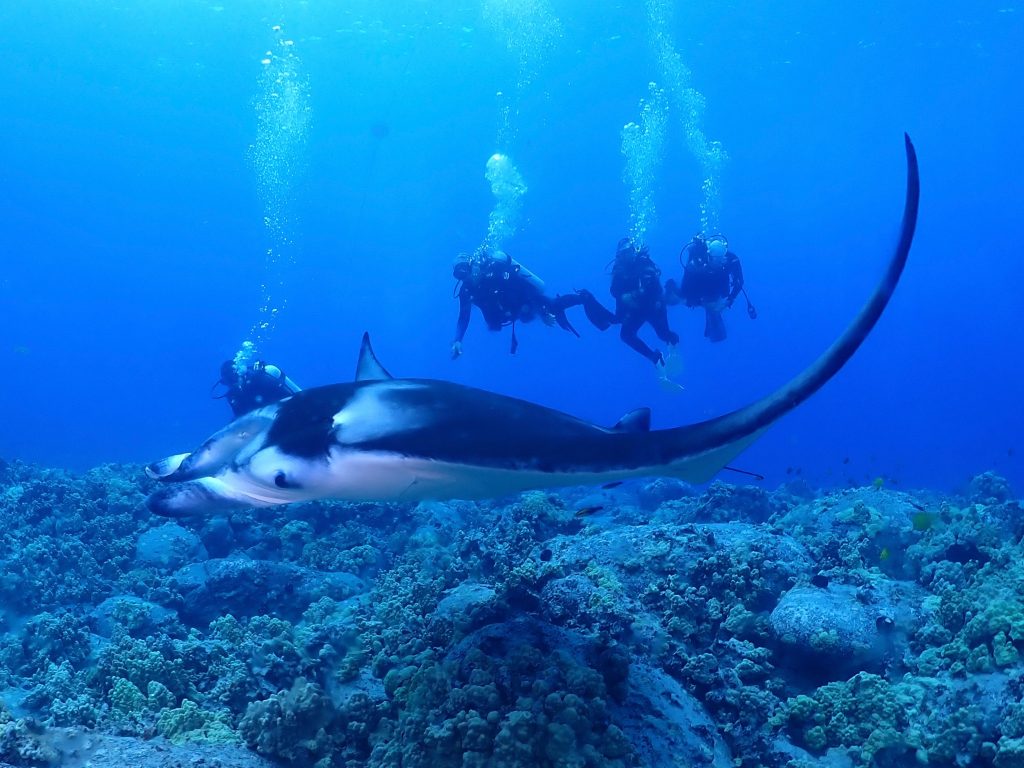 Oct 18 – Nov 1, 2022: Kona, Hawaii Dive Trip: Barb reports: "Thirteen members enjoyed 10 days in Hawaii. Water temps were very warm at 82 degrees. We enjoyed a wide range of diving experiences hosted by Jack's Dive Locker and Blue Wilderness Divers. Five members did the famous Manta Night Dive and were surrounded by several Mantas, one knocked Mike Ralston's mask off. Six members did the advanced dive. Highlights were a dozen reef sharks, lots of out in the open octopi, swimming eels, abundance and diversity of fish, and top side, a breaching whale."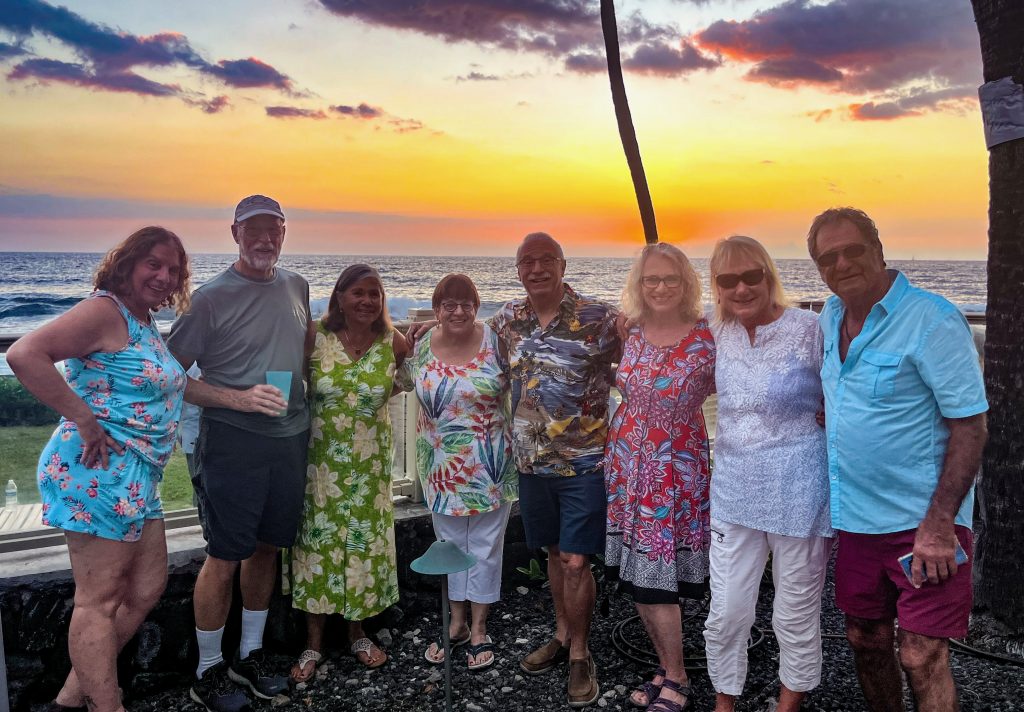 Blue Friday: Friday, November 25 and Saturday, November 26, 2022. Don't shop. Dive. We will celebrate the Second Annual Blue Friday Holiday at Point Lobos State Marine Reserve (https://www.parks.ca.gov/?page_id=27221) the day after Thanksgiving, Friday, November 25th. We will also be diving for a second day on Saturday the 26th, if you would like to do the day after dives. Unlike last year where Ken booked the site out, please make your reservations for Friday and/or Saturday by yourself.  Reservations are available from: https://www.parks.ca.gov/?page_id=28353, and are $20 per dive buddy pair for Friday and $30 per pair for Saturday. As of 10/6/22, there are still reservations available, but they will eventually sell out.  There has been some interest in going boat diving on Sunday; however, the Beach Hopper 2 is not running that weekend.  If anyone has other suggestions, please let us know.  Please RSVP to Ken Carter (krc17@caa.columbia.edu) in case weather and plans change.
Blue Friday: Friday, November 26 and Saturday, November 27, 2021.
Forgot about Black Friday and Cyber Monday. Ken Carter is organizing a dive trip he's calling Blue Friday.  He's booked all of the slots at Point Lobos for Friday, November 26th (the day after Thanksgiving) and Saturday, November 27th.  It's $30 per dive team and you need to be vaxxed to attend. Email Ken if you would like to participate.
Cabo Pulmo & La Paz, Mexico, October 23-November 1, 2021.
22 MSC members rescheduled from the cancelled 2021 trip. They're leaving for Cabo Pulmo for 7 nights / 6 days of 2-tank dives at this time of year with highly desirable water temps and weather. They have booked the entire Casa Juarez B&B. Half the group will extend the trip for 2 nights in La Paz to snorkel with whale sharks on Halloween. This trip is now wait list only. Contact Barb for details.
CANCELLED – October 8-10, 2021 Lake Tahoe Dive & Hike.
Arrive on Friday, 10/8; dive on Saturday, 10/9; mountain bike and depart of Sunday, 10/10. Jim Van Gogh will lead the high-altitude dives. For details, contact Ken Carter. CAL PARKS HAS CANCELLED THIS EVENT DUE TO FIRES IN THE AREA.
Rogue River Hike & Raft, May 25, 2021.
Join Alissa and Mike — members welcome.  Get the details here.
May 15-25, 2021 – Members interested in a Kona, Big Island Hawai'i trip with Barb, Jeffrey and Simma, and Ellen.
Details:  Arrive May 15 in Kona, Hawaii.
We have oceanfront condos at Kona Reef. The management company has many one bedroom condos available at this time.
Dive Operator: Kona Honu out of Kona. We plan to dive 4-6 days, possibly including famous Manta Night Dive and Black Water Dive. We plan to do some sightseeing, especially Volcano National Park. Please contact Ellen at ellen_hope (at) sbcglobal (dot) net or call her at 415 845-5312.
March 6/7/8, 2020 (Fri-Sat-Sun): Join Barb on the Monterey Beach Hopper II for three days of diving. Book directly through the dive boat: beachhopper2.com. Info – contact: Barb for details.
CANCELLED — May 8-17, 2020: Philippines Dive. Join Ellen Sakoloff at the land-based El Galleon Dive Resort in Puerto Galera for 9 nights. Boats depart 4x/day for short runs to dive sites. Contact El Galleon for details.
CANCELLED — June 20, 2020 (Sat): Spring/Summer Social at Jeffrey & Simma's lovely farm home for a pot luck vegetarian gathering. Contact Barb for details.
CANCELLED — July 17-19, 2020 (Fri-Sat-Sun): Tahoe Dive & Camp: Join Ken for this annual fun weekend to dive the Rubicon Wall, camp, hike, bike, and more activities. Contact: Ken for details.
Aug 21/22/23, 2020 (Fri-Sat-Sun): Annual Dive & Dine, Ocean Cove. The club has reserved group campsite #3 again with stunning views. Download sign-up form (PDF) Costs: $35 for campers; $15 for non-campers, plus the park entrance day fee per auto.
Schedule: Campsite opens at 9am; check-in by Friday Noon.
Friday evening: campfire camaraderie
Saturday morning: scuba and snorkeling.
Saturday afternoon: hiking.
Saturday evening: 5pm appetizers and dining.
In order to maintain health and safety we request your support as follows:
1) If you are not feeling well, have a cough, or temperature, do not come.
2) Masks are to be worn when folks are within 6 feet of each other. Do maintain social distancing.
3) The club will supply disposable plates, cutlery and cups, however we do request that campers bring their own private plates, cutlery and cups. We will not be using our club dishes that require washing.
4) For our pot-luck on Saturday evening, the club will supply gloves for serving. Any items such as nuts or chips will require tongs/spoons for serving. The club will have extra serving utensils available.
5) The club will supply Lysol and hand sanitizer. When using the porta potty, please wipe with club provided Lysol spray and paper towels before and after use.
We look forward to a fun, safe, outdoor social with beautiful views of the ocean at Ocean Cove.
Nov 7-15, 2020: 20 MSC members are leaving for Cabo Pulmo for 5 nights / 4 days of 2-tank dives on November 7th for $863 – $916 per person double occupancy. Some members will extend the trip for 3 nights in La Paz to snorkel with whale sharks, scuba dive or just relax. This trip is now waitlist only. Contact Barb for details.
May 18-19, 2019 (Sat & Sun): Urchin Dive at Ocean Cove with Waterman's Alliance. Contact Niles Szwed for more information.
June 20-23, 2019: Big Sur Dive Trip: MSC and Marin Diving Center on Truth Aquatics departing from Morro Bay for three days at Big Sur. $649. SOLD OUT. Contact: blwambach@comcast.net
 June 30 to July 8, 2019: Tahoe Altitude Diving along the Maritime Heritage Underwater Trail below the surface of Emerald Bay / Camping / Family Fun. Contact Ken for details: kc@marinscubaclub.org.
Aug 16-18, 2019 (Fri – Sun): Save the Date / Summer Dive & Dine at Ocean Cove, Jenner. Group site can accommodate up to 35 people, RVs and vans, with hot showers, 10 parking spaces and a boat ramp!
Nov (TBD: Sat), 2019: Snorkeling in Monterey with Ken Carter during the Salmon Run. Details to come. Contact Ken for details: kc@marinscubaclub.org.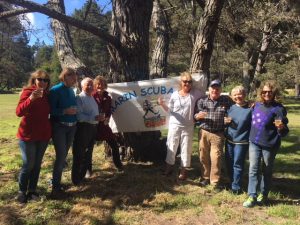 Spring Dive & Dine June 8-9-10, 2018
Hope that you will join us for our Spring Dive & Dine at Van Damme State Park. If you did not receive a sign-up for the event, contact Barbara: blwambach@comcast.net.
For the dining, we will serve a delicious Cioppino Saturday evening. Do bring a side dish to share. For the diving, we will scuba dive at Van Damme State Park and all divers that have a fishing license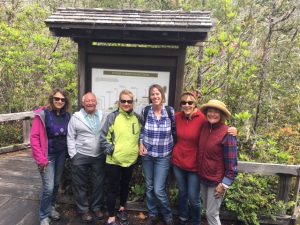 (day of Saturday June 9th or annual) can participate in our Kelp Restoration project. Cynthia Catton, PhD & Environmental Scientist, is the lead manager at the California Department of Fish and Wildlife for Kelp Restoration (KELPRR). Marin Scuba Club has partnered with her to help save our Kelp. To that end, she has increased catch limits of the small purple urchins that are devastating our Kelp from 35 per recreational diver to 20 gallons.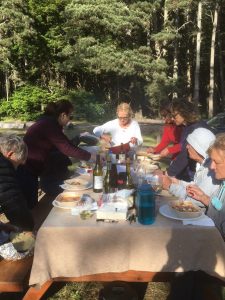 Barb has also directed divers to focus on a few areas, one of which is Van Damme Cove. Within Van Damme Cove, we will dive near any existing kelp and remove the urchins that are on the perimeter/roots of the kelp as advised by Cynthia and the Kelp Restoration project.
California's kelp forests have decreased by 93% of normal. Higher sea surface temperatures in recent years have limited kelp growth, and sea star wasting disease has removed a key predator of purple sea urchins, a veracious eater of kelp.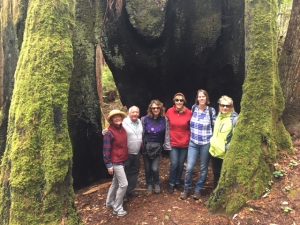 Though our waters have cooled this past year, the explosion of the purple urchin population—60 times higher than normal—has prevented the kelp forests from recovering. The effects of the kelp forest loss have resulted in, the closure of the red abalone fishery, this year, 90% of the local cormorant and 80% of the black oystercatcher nestlings failed to survive due to the lack of fish that would normally be found in the kelp beds. Fewer young fish also means fewer larger fish for marine mammals, such as harbor seals and sea lions. Sea otters are suffering from shark attacks, as there is little kelp for them to rest.
How can you help?
• You will need a fishing license at least for the day.
• You will need a catch bag.
• You will need cold-water diving gloves.
Hope that you will join our diving. Participating in the purple urchin harvest is optional.
For more information on the Kelp Restoration Project see link below: https://noyocenter.org/help-the-kelp/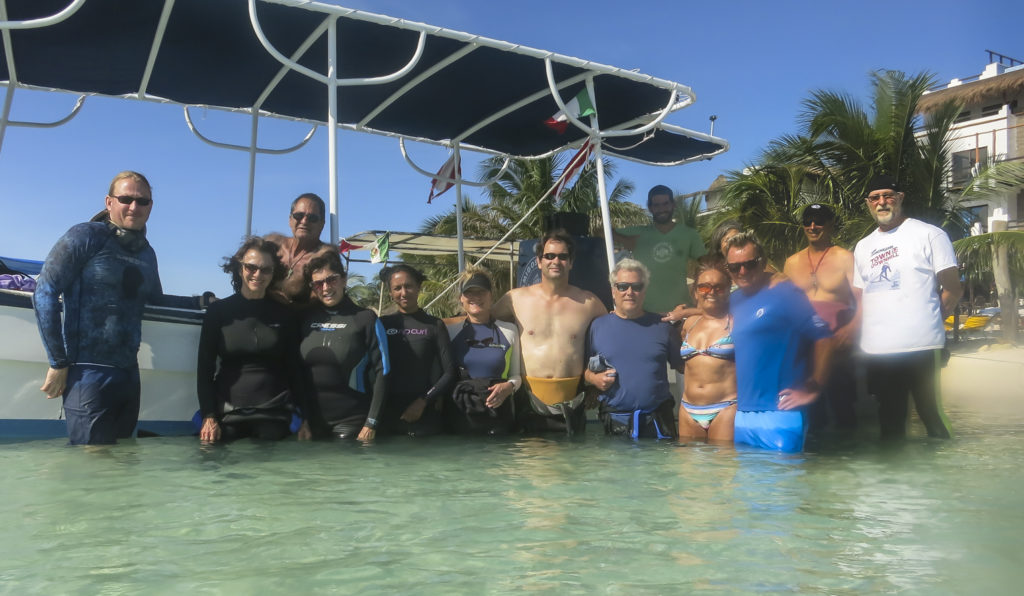 Oct 18 – 28th, 2017
Banco Chinchorro Dive Trip, Mexican Mayan Riviera near the Belize border.  blwambach@comcast.net said:
"Fourteen club members visited Banco Chinchorro for the first time in October. The most exciting diving was the banc, a one-hour ride from Mahaual, Mexico. The wrecks on the outer side of the reef were the best that Barb Wambach has ever visited –– laying in 25-35 feet of clear water, abundant with sea live and extremely colorful. The banc also featured large animals including leatherback turtle, eagle rays, stingrays, nurse sharks and a few reef sharks.
"Near the center of the banc, lies a mangrove which is home to approximately 500 American crocodiles. While we did not swim with them, we did get very close. The coral reef was very healthy and we enjoyed large schools of sardines, blue fish and a small school of tuna. We do plan to go back."
Jan 6 – 14, 2018
Socorro Islands Dive Trip Aboard the Solmar V. Depth diving with current, open oceans and blue water. This trip will now be followed by an optional trip to Cabo Pulmo, January 14 – 21. blwambach@comcast.net
Oct 9-16 &/or Oct 17-24, 2018
Dive Fiji at Volvoli Resort for 7-10 days. We need 10 divers to commit to this trip ASAP. Contact Bryan: bryeck@gmail.com