MEETINGS
When We Meet
Marin Scuba Club meets on the second Wednesday of each month from January through November from 7:00 – 8:45pm.
We meet at the Sausalito Parks & Rec Center at 420 Litho Street AND via Zoom. There is FREE PARKING in the lot, Bee, Bonita and Litho Streets. NOTE: The Rec Center has an entrance on Bee St., so do not enter upstairs through the parking lot.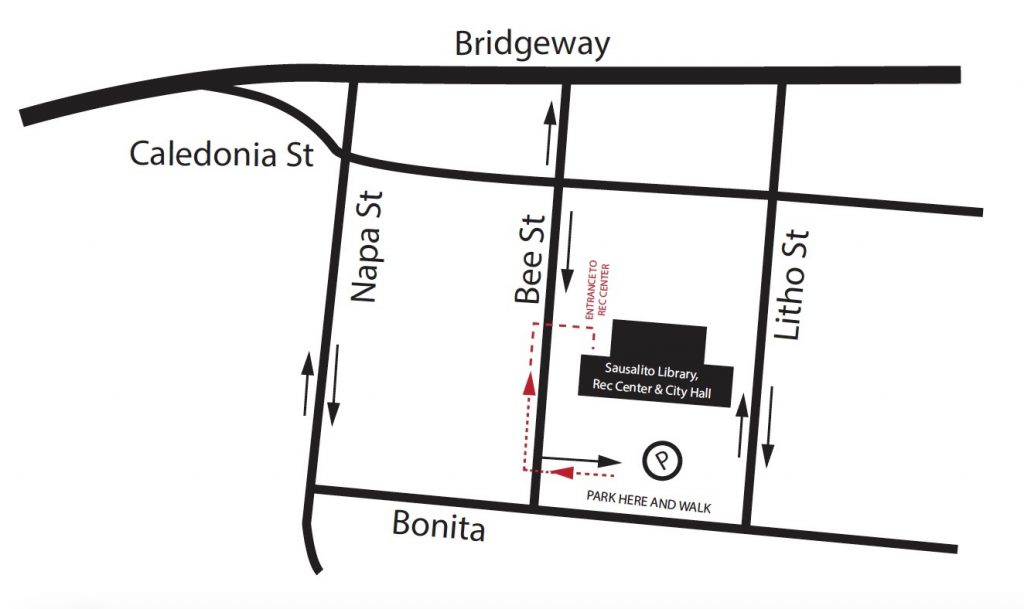 Upcoming Events
Check out our Club Calendar. It includes:
Guest speakers discussing all aspects of diving
Slide shows, multi-media presentations, and videos
Valuable travel tips and dive resort reviews
Diving weekends (campouts with abalone diving when available)
Club dive trips (Northern/Southern California cold water & tropical warm water)
Holiday parties and club picnics
October 11, 2023 Meeting: Join us as five talented MSC members will present videos, photographs and stories of Antarctica, Indonesia, Mexico, and more. Here's the roster:
Virginia Bria

will focus on the "Antarctica Climate Expedition" with

Ocean Geographic

and Sylvia Earle aboard the "Sylvia Earle" ship. She documented the region's plight with 100 Ocean global ambassadors fighting climate change.
Lisa Perla will showcase her stunning images of biodiversity within Raja Ampat from her 10-day, 4 dives per day February 2023 trip on the "Aurora". She enjoyed great visibility and some new moon currents.
Jeffrey Zankel will present his images of two trips to Cozumel this year, one in January and the other in late August.
Ken Carter will share his 2023 year in diving photographs, with a different point-of-view, including MSC's January trip to Scuba Club Cozumel, August's Dive and Dine… plus a photo of 3 mermaids on a whale shark.
And Gil Zeimer will discuss his and Ken's efforts to publish, promote, and widen the net of divers participating in "Blue Friday 2023".
Please join us for this MSC group presentation on Wednesday, October 11th at 7:00pm PT.
September 13, 2023 Meeting: David Helvarg & Natasha Benjamin, Blue Frontier Campaign ¬¬– "California Kelp Crisis – Working to Save The Sequoias of The Sea". Two multi-talented individuals and activists who have a genuine love for the ocean will present this month.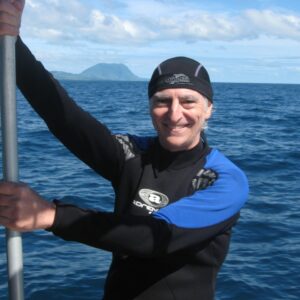 Meet David Helvarg, Executive Director
An award-winning journalist and author of "The Golden Shore – California's Love Affair with the Sea", David
has produced more than 40 broadcast documentaries for PBS, The Discovery Channel, and others. His print work continues to appear in The New York Times, National Geographic, Sierra, and more. Today, he and Blue Frontier continue to lead media training workshops for ocean scientists and advocates.
Meet Natasha Benjamin, Associate Director
A marine scientist and filmmaker based in Northern California, Natasha is a diver, surfer, and a producer of Peabody Award-winning Brick City TV. She works with Marine Applied Research & Exploration (MARE) and Blue Frontier, and is presently co-producing a new documentary, "Sequoias of The Sea".
An Ocean Conservation and Policy Group
Founded in 2003 with support by Dr. Sylvia Earle, Philippe Cousteau and others, Blue Frontier is a national leader in providing resources and opportunities to bring the voice of caring citizens into decision-making processes to positively impact our seas.
Kelp forests cover 25% of global coastlines, provide food and shelter for thousands of species, and sequester carbon from the atmosphere. Over the past decade, a third of these kelp forests have been lost across our Blue Planet. But along the 350-mile coastline from San Francisco to the Oregon border, a striking 95% of kelp forests have been decimated. While many other important ocean ecosystems such as coral reefs are getting attention, kelp is the lost forest of the ocean, disappearing before our very eyes.
With a perfect storm of climate change impacts causing oceans to warm, sea stars to disappear, and urchin populations to explode, we're witnessing an ecological disaster in one of the world's most highly managed and protected coasts. In fact, our coastline that once harbored productive kelp forests now has only bare rocks and hungry urchins.
For more information, visit https:/bluefront.org. We look forward to having you join David and Natasha on Wednesday, 9/13 for their presentation at MSC.

Wednesday, August 9: Linda Ianniello, "Black Water Diving". Linda has been scuba diving and taking underwater images for over 30 years. She favors macro photography, where half the challenge is finding the small, unusual subjects.She is fortunate to live in southeast Florida, where there is easy access to diving off the coast. When a local dive operator started doing "blackwater" dives, she became interested. She was quickly hooked and has done over 400 blackwater dives locally, in just over eight years. She has also traveled to Indonesia and the Philippines to do these dives.So What Exactly Is a Blackwater Dive?
It's a night dive, done in the open ocean, where the water is hundreds of feet deep. There is no reef or bottom to provide a visible reference. There is a broad diversity of small subjects to be seen on these dives, such as fish and mollusk larvae; a variety of shrimps and crabs, both larvae and adults; gelatinous zooplankton traveling with the current (jellyfish, salps and siphonophores); and sea snails (pteropods, heteropods and gymnosomes) that spend their entire life cycle in the water column.Linda will be talking about the mechanics of a black water dive and the variety of creatures found on these dives; also a few photography tips and a bit about the "citizen science" value of these dives.All the images she will show will be from her dives off the coast of Southeast Florida near her home.For a full compilation of the creatures she has found and photographed, check out her website's galleries of black water trips and other excursions, from Florida the Philippines, Grand Cayman, and Indonesia: https://lindaiphotography.com/galleries/We look forward to having you join Linda on Wednesday, August 9th for her presentation at MSC.

Watch her presentation on Vimeo.

Wednesday, July 12: "Why I Don't Think Sea Lions Like Rebreathers".  If you want to dive without scaring away sea life who bolt when they see bubbles, don't miss Sean's upcoming presentation.A Divemaster Since 1989.
He's worked in the industry since he became a divemaster in Florida in 1989. Today, Sean's a commercial diver out of the Port of Oakland and has been teaching classes in the Bay Area for over 20 years! He still has tons of fun teaching diving of all levels and he especially loves introducing new divers to the sport and connecting with those who are just beginning their pro and technical diving journeys.That Was Just The Beginning.
Many divers see becoming an instructor as the pinnacle of their dive career, but for Sean, it was only the beginning. He sees continued education as essential for staying passionate about the sport. He found that there was always more to learn about the ocean and the gear we use to explore it, as well as an endless array of paths to stay engaged and build on training—from citizen science courses to technical diving.Rebreathers Were Instantly Compelling.
Rebreathers were compelling to Sean right away. He found that he was interested in the equipment and the technology behind it and enjoyed expanding depth limits with the virtually unlimited gas supply that rebreathers offered.He started rebreather diving in 1998 on the Draeger Dolphin, one of the first that was commercially marketed; soon after that, he became an instructor. Now, he's been teaching rebreather diving for nearly 25 years and is qualified on four different rebreather models. Recently, he earned an instructor rating on the Mares Horizon SCR.

When not diving for work, you can catch him diving for fun at a local dive site or in the caves of the Yucatan Peninsula. Join Sean on July 12 for his MSC presentation. Watch his presentation on Vimeo.

Grab your dry suits, hoodies, thickest gloves, and long johns. On Wednesday, June 14th, three intrepid female explorers will take us on a deep dive of their Arctic Expedition to Norway as they interacted with orcas and humpbacks.

Sea Woman #1: Dr. Virginia Bria, a diver for 40 years, has studied art therapy and photography at Pratt Institute, NY. She taught art and is currently a trusted Marin County investment advisor for 28 years.

When she arrived in California, Virginia quickly fell in love with the Sonoma County coastline and took her cameras underwater. She's been a NAUI instructor, NAUI Rescue Workshop Leader, and a divemaster. For several years, she also explored, camped, and dived along the Baja peninsula from Loreto to La Paz. She has logged over 5,000 dives worldwide.

She recently participated in the Antarctica Climate Change Expedition with Michael Aw, Ocean Geographic, and Sylvia Earle, Mission Blue. In 2022, she joined the Sea Women Expedition in Norway's high Arctic as a photographer and videographer with 34 women from 14 countries, spending 3 back-to-back trips in the fjords of Norway aboard the MV Explorer. Read more: https://www.bellasirenaimages.com/

Sea Woman #2: Carol Cotton Blickenstorfer is a photographer, videographer, scuba diver/instructor, reviewer, artist, and adventurer from Knoxville, Tennessee. She and her husband run a computer and underwater news/product review business. After 3,000+ dives, she's enchanted with the sea and creatures, earning multiple NAUI, PADI, NACD, NSS-CDS, and TDI certifications, then documenting sea life on underwater trips worldwide.


In her spare time, Carol is very active in the Society for Creative Anachronism (SCA), an inclusive community pursuing research and re-creation of historic skills, arts and culture, where she specializes in research and re-creation of historic Baltic costumes and jewelry. Read more: https://www.instagram.com/carolblickenstorfer/

Sea Woman #3: Whitley Mike is an avid graphic designer and art director who lives near Minneapolis, Minnesota. She holds a B.A. in Communications and Media Arts, a Post-B.A. Graphic Design Certificate, and a Master of Arts in Sustainable Design, where she focused on how human behavior impacts endangered species.

Her thesis is on the survival of the Southern Resident Orca of the Pacific Northwest, and how sustainable solutions can help protect orca and their future.

Whitley's unique education combines her passion for graphic design and the well-being of the cetaceans.

As a Sea Women Expeditions team member since 2019, she has assisted with visual storytelling through branded design, social media communications, and co-hosting virtual expeditions.

Her aspirations for the 2022 Sea Women Expedition to Norway's frigid fjords were to better understand Type 1 Eastern North Atlantic orca behavior and their habitat.
Read more: https://www.linkedin.com/in/whitleymike/
Watch their presentation on Vimeo.

Our Wednesday, May 10, 2023 in-person/Zoom hybrid meeting will feature Eva Paulus (via Zoom from Austria) presenting "Deep Sea Fish & Research".

During her graduate studies, she participated in expeditions to the Azores and Iceland to study deep-sea hydrothermal vents along the Mid-Atlantic Ridge.

Plunging deeper into her studies and the ocean, she spent 74 days on the German research vessel Sonne in 2021, learning about the amazing animals living in the mesopelagic zone between 200 and 1000m depth.

Join us on May 10th for her live presentation as Eva shares some of the images captured by nature photographer and biologist, Solvin Zankl, who was able to join two of her most recent expeditions.

Our Wednesday, April 12, 2023 in-person/Zoom hybrid meeting will feature Dirk Rosen presenting "Working With Robot Submarines All Over The World".

Earth's oceans are still vastly underexplored. The deepest place, Mariana Trench in the western Pacific, is more than 36,000 feet deep, while nearby Monterey Canyon is 13,000 feet below the surface. So join us for Dirk's presentation about how he's been using deepsea robots to explore these depths.

Dirk founded Marine Applied Research and Exploration (MARE), a non-profit organization dedicated to filling the knowledge gap of the deepsea, below SCUBA depths, tracking deep sea communities and protecting hotspots of biodiversity and abundance.

Based in Tiburon, CA, MARE:

Enables intelligent ocean management by bringing science to action to restore the ocean's invaluable, yet threatened resources to support sustainable fisheries for future generations.
Deploys a fleet of robotic vehicles to explore and document changes to ocean health over time, well beyond the reach of SCUBA divers.
Has performed an ongoing census of the West Coast from Mexico to the Canadian border, as well as dedicated surveys of the Gulf of Mexico, Hawai'i and Costa Rica.

About Dirk Rosen.
Dirk has 35+ years of deepsea equipment design, build and operations experience with ROVs, manned submersibles and tow sleds. He's led or co-led 42 ocean expeditions assessing Marine Protected Areas, characterizing National Marine Sanctuaries, performing fish stock assessments, evaluating impacts of wave power, recovering lost equipment at sea, and removing derelict fishing gear.

Previously, he was president of Deep Ocean Engineering, test pilot for all three Deep Rover 1,000 meter-rated manned submersibles, and a co-designer of hundreds of ROVs. Later, at Hawkes Ocean Technologies, he managed the build of Challenger, an 11,000-meter-rated manned submersible designed to explore the Marianas Trench. Prior to that, he worked with NASA for 5 years, helping implement robotic standards now used on the International Space Station.

Please join us on Wednesday, April 12 from 7:00 – 8:45pm for Dirk's live presentation and via Zoom. Watch Dirk's presentation on Vimeo.

Our Wednesday, March 8, 2023 in-person/Zoom hybrid meeting will feature Todd Steiner presenting "Diving Cocos Island Costa Rica for Conservation Science", with updates on 'Why Have All The Turtles Left?' and the "Cocos-Galapagos Swimway Campaign".

About TIRN
For 30 years, Turtle Island Restoration Network has been a leading advocate and research NGO for the world's oceans and marine wildlife. They have offices in California, Texas, and Hawaii.

TIRN's work is based on science, fueled by people who care, and effective at catalyzing long-lasting positive change that protects the likes of green sea turtles, whale sharks, and coho salmon. By working with people and communities, they preserve and restore critical habitats from the redwood-forested creekbanks of California to the biodiverse waters of Cocos Island. Read more at Seaturtles.org.

About Todd Steiner
The genesis of TIRN began in 1987, when Todd, a young biologist and wildlife activist, first traveled to Nicaragua to learn more about a cutting-edge sea turtle conservation program that sought to engage local coastal communities in long-term preservation efforts to save sea turtles.

Today, as a wildlife ecologist, and as founder and executive director of TIRN, Todd has led sea turtle and shark tagging research expeditions for over 10 years.

His programs now span the globe from the coastal waters of the Galapagos Islands to the sandy beaches of Galveston, Texas. They include projects to protect sharks, marine mammals, and seabirds from a myriad of threats from industrial overfishing, destruction of coastal and riverine habitat, and the threat of climate change from fossil fuel projects.

Please join us on Wednesday, March 8 from 7:00 – 8:45pm for Todd's live presentation and via Zoom. Watch Todd's presentation on Vimeo.

Our Wednesday, February 8, 2023 in-person/Zoom hybrid meeting will feature Dr. Chris Lowe, a Professor of Marine Biology and Director of The Shark Lab, California State University Long Beach: "Recovery of White Sharks Off California and What That Means to Coastal Communities."

He says, "The white shark population of the eastern Pacific has likely been reduced for over a 100 years, due to overfishing and loss of key adult prey. Fisheries protections for white sharks, recovery of endangered marine mammals, and better management has resulted in population recovery off California, with increased white shark sightings off beaches and around offshore islands. While population recovery has resulted in increased public safety concerns, there has been little evidence of an increase in shark bites relatively to human activity."

About Dr. Chris Lowe
Dr. Lowe has been studying sharks, rays and bony fishes for over 30 years, focusing on their behavior, physiology and ecology. For the last 15 years, he and his students have been studying juvenile white sharks off the coast of southern California. Using a wide array of technology, they have found that white sharks use southern California beaches seasonally as nursery habitat for their young. This brings juvenile white sharks in close proximity to beach goers. Dr. Lowe and his students use technologies and educators to help lifeguards and the public understand the mysterious lives of sharks and just how much of a threat they may actually pose.

Please join us on Wednesday, February 8 from 7:00 – 8:45pm for Dr. Lowe's informative presentation. Watch Dr. Lowe's presentation on Vimeo.

Our Wednesday, January 11, 2023 in-person/Zoom hybrid meeting will feature  Jon Edens, who has owned and operated the Marin Diving Center for nine years. This full-service scuba and snorkel shop is located in San Rafael off Highway 101 and North San Pedro Road. He's worked in the diving industry for over 35 years.

Jon's January presentation will focus on:
• Being a safe diver
• Mental, physical and equipment preparation
• Practicing your diving skills
• Fun diving
• The latest trends and newest equipment
• Plus local and tropical destinations

Marin Diving Center is a PADI Five-Star Dive Center with exceptional service and staff. Open 7 days a week, they specialize in:
• Dive Education: Beginner through professional levels in a heated pool, classroom, and open water
• Sales: High-quality scuba diving, free diving, and snorkeling products from major manufacturers at competitive prices
• Equipment Repairs: Almost all done in-store
• Local & International Travel: Mendocino & Sonoma coasts, Big Sur & Monterey, Channel Islands, Lake Tahoe, and worldwide

Please join us on Wednesday, January 11 from 7:00 – 8:45pm for Jon's informative presentation.

Our Wednesday, November 9, 2022 in-person/Zoom hybrid meeting will feature Anne Louise De Souza presenting "Building My Scuba Dream: The Story Behind The Lens".

She is a Brazilian oceanographer, scuba instructor, and passionate underwater photographer who is now the marketing manager at a local underwater lighting manufacturer, Light & Motion, where she got to  deepen her knowledge about photography and lighting.

She says, "Being immersed in the diving community made a lifelong dream of capturing the wonders of an exquisite, submerged world a reality. Diving in all of its forms is not only my greatest passion, but an important tool to spark a connection between ocean and society."

Please join us on Wednesday, November 9 from 7:00 – 8:45pm for Anne's incredible images. Watch her presentation on Vimeo.

Our Wednesday, October 12, 2022 in-person/Zoom hybrid meeting will feature Kathi George, Project Manager for Global Response on Rescuing Whales, The Marine Mammal Center. She oversees all work in California as well as field research and conservation impact. Since joining in 2019, Kathi has expanded advocacy efforts to address two of the greatest threats to whales worldwide, entanglement and vessel strikes.

She collaborates closely with many different stakeholders in her work. These include:
• Serving in the Conservation seat for the Greater Farallones National Marine Sanctuary Advisory Council
• Previously as a member of the 2021 Greater Farallones and Cordell Bank National Marine Sanctuaries Advisory Council Joint Ship Strike Working Group.
• Additionally, Kathi 's a member of the San Francisco Harbor Safety Committee and a member of the California Dungeness Crab Fishing Gear Working Group.

As a Level 3 Co-Investigator with NOAA's Marine Mammal Health & Stranding Response Program, Kathi is permitted to respond. She has participated in six whale disentanglements, numerous entangled whale responses, and over 50 sea lion disentanglements.

Previously, she co-founded California Whale Rescue—a nonprofit dedicated to entangled whale response and prevention. Kathi spends as much time as she can underwater and on boats, plus enjoying California's coasts and mountains with her husband and son.

Please join us for her "Human Impact on Whales" presentation on Wednesday, October 12, 7:15-8:45pm. Watch Kathi's presentation on Vimeo.

Channel Islands by Virginia Bria

Our Wednesday, September 14, 2022 in-person/Zoom hybrid meeting will feature the best images, videos, and stories by a talented group of members, most of whom are MSC Board Members:
• Virginia Bria will recount her March trip to the Maldives where she made us all very jealous by staying at the Six Senses Laamu Resort. We've heard her gush about the pristine coral and friendly whale sharks.
• Lisa Perla will showcase images and share dive stories about exotic Anilao, Philippines.
• Barb Wambach will portray her underwater photography expertise with a trip to Fort Lauderdale, Florida.
• Julie Finley will relive her adventures during her 30th trip to Palau, Micronesia, her dive home away from home.
• Gil Zeimer will discuss his writing success in the scuba industry with "How to Get Published".

Please join us for this MSC group presentation on Wednesday, September 14th at 7:00pm PT for these informative club member presentations.

Wednesday, August 10, 2022: Cindy Hansen, Orca Network, "Orcas of The West Coast": In-Person and Zoom Meeting. Our August presentation will feature Cindy Hansen, Education and Advocacy Coordinator for Orca Network since 2016.

From Namu to Free Willy to Blackfish, orcas have fascinated us for generations. The West Coast is home to a few different ecotypes of orcas, or killer whales, with unique diets, behaviors, acoustic calls, and cultures. While some are thriving, others are in danger of extinction. Learn about the fascinating biology, social structure and culture of orcas and how you can become involved in ongoing conservation efforts.

Cindy received a degree in Zoology from the University of Washington and has worked as a naturalist and educator for over 20 years. She has also migrated with the gray whales to San Ignacio Lagoon in Baja Mexico for many years, where she works as a naturalist/guide for Baja Discovery.

Please join us for her presentation on Wednesday, August 10th, "Orcas of The West Coast" at 7:00pm PT. Read more: www.orcanetwork.org. Watch Cindy's The Orca Network presentation on Vimeo.

Wednesday, July 13, 2022:  Denise Jaffke and Sheli Smith, "Taking Heritage Stewardship Underwater": In-Person and Zoom Meeting.  Our July presentation will feature two members of the Sonoma Coast Historical and Undersea Nautical Research Society.

SCHUNRS.org is an all-volunteer organization using public education, historical research, and maritime archaeology to document physical traces of our maritime heritage before they are lost forever. Its mission is to discover, protect, and promote greater knowledge and public stewardship of local maritime cultural heritage along the Sonoma-Mendocino Coast, on land, and under the waves.

Denise Jaffke currently works as Principal Investigator and Archaeologist for Far Western Anthropological Research Group, Inc. and a volunteer scientific diver with the California State Parks Dive Team. Along with serving as SCHUNRS Secretary, she also leads the Documentation Team to ensure that all identified resources are recorded to professional standards. Denise assists with public outreach efforts — online, locally, and statewide.

Sheli Smith has been working with California's maritime heritage for decades, excavating shipwrecks, teaching and promoting stewardship. In addition to serving as SCHUNRS VP, Sheli also serves on the California State Parks Dive Safety Advisory Board. Sheli assists SCHUNRS research and outreach efforts.

Join us for their presentation of "Taking Heritage Stewardship Underwater" on Wednesday, July 13th at 7:00pm PT.
Watch their presentation on Vimeo.

Wednesday, June 8, 2022:
Jett Britnell, Vancouver, B.C., "A Life in The Depths – Sharks, Shipwrecks & Other Assorted Undersea Adventures": In-Person and Zoom Meeting. Our June in-person/Zoom meeting will feature Jett Britnell, a professional underwater, wildlife and expedition photographer, internationally published writer, explorer, scuba diver, and speaker.

Much of his work is focused upon undersea exploration, globally protecting endangered species, preserving natural habitats, supporting marine & wildlife conservation efforts and environmental education. Jett is a member of the Ocean Artists Society, a unique alliance of the world's top marine life artists, painters, sculptors, photographers, filmmakers, and writers.  He is also ranked among the world's top underwater photographers who donate images to support The Ocean Agency's conservation initiatives.

In addition, Jett is a consultant to Elephanatics, an elephant advocacy organization residing in Vancouver, British Columbia, Canada. In May 2020 he was invited by EXPLOCEAN to be an ambassador for the "League of Underwater Explorers." The League's primary mandate is to create opportunities for all people to discover our world by promoting underwater exploration.

On January 1, 2022, Jett began serving as Chapter Chair in The Explorers Club's Canadian Chapter. Find out more: https://www.jettbritnell.com
Watch Jett's Vimeo Presentation from June 8, 2022: "A Life In The Depths – Sharks, Shipwrecks & Other Assorted Adventures.".

Wednesday, May 11, 2022: Dr. Milton Love, "Better Than a Swift Kick Where The Sun Doesn't Shine – Interesting Fishes of The Pacific Coast" : In-Person and Zoom Meeting. Our May presenter is a research biologist at the Marine Science Institute, University of California, Santa Barbara.

Dr. Milton Love has conducted research on the marine fishes of California for over 50 years and has written over 120 publications on the fishes of the Pacific Coast. He is the author of Certainly More Than You Want to Know About the Fishes of the Pacific Coast, The Rockfishes of the Northeast Pacific, and more.

For the past 25 years, and using a manned research submersible, Dr. Love has carried out surveys of the fish populations living around natural reefs and oil / gas platforms throughout the southern California Bight. Proving you can fool some of the people all of the time, in 2007, the American Fisheries Society awarded Dr. Love the Carl R. Sullivan Award for Conservation Resources.

"Better Than a Swift Kick Where The Sun Doesn't Shine – Interesting Fishes of The Pacific Coast" is the longer title of his May presentation. He says, "Most of us lead drab and colorless lives as drones and cogs in faceless organizations. With his tales of Pacific Coast fishes, Milton (only his wife calls him Dr. Love) will enter your world like a bright and fanciful rainbow, or a swatch of William Morris wallpaper, or perhaps one of those Baratza espresso makers that look like something out of a caffeine-induced fantasy."

Find out more: http://lovelab.msi.ucsb.edu/. Please join us for his presentation on Wednesday, May 11th at 7:00pm PT. Watch Dr. Love's Presentation on Vimeo.

Wednesday, April 13, 2022: Mark J. Palmer, "Whither Whales – History & Current Status of Whaling": In-Person and Zoom Meeting. Our April presenter is Associate Director of Earth Island Institute's International Marine Mammal Project, Mark Palmer.

Mark was a consultant for the Academy Award-winning documentary "The Cove" and appears in the Animal Planet series "Blood Dolphin$". He focuses on protecting whales and dolphins, with emphasis on strategic planning, legislative advocacy, legal research, grassroots organizing, and media relations.

Mark is also Director of Earth Island Institute's Wildlife Alive Subproject, dedicated to protecting wildlife and wild places throughout California and the West. Palmer graduated with a BA in Zoology from the University of California at Berkeley, where he founded and led the Endangered Species Committee of California. He then spent two years of graduate work at SFSU in the Department of Biology.

Prior to coming to Earth Institute, Mark served as Regional Vice President for the Sierra Club for Northern California and Nevada; Chairman of the Sierra Club's National Wildlife Committee; and Chairman of the Sierra Club's Arctic Campaign Steering Committee, which successfully blocked oil drilling in the Arctic National Wildlife Refuge during both the Reagan and George H.W. Bush Administrations. He has also been Executive Director of the Whale Center (1986-1990) and the Mountain Lion Foundation (1990-1995).

Palmer joined the staff of Earth Island in 1995, spearheading efforts in Congress and federal court to protect and maintain the integrity of the Dolphin Safe label on tuna. He has worked since 2004 with Ric O'Barry on the Save Japan Dolphins Campaign, which has seen worldwide attention to the problem of dolphin slaughters in Japan.

His articles have appeared in several national publications, including Sierra Magazine, Pacific Discovery (aka Wild California), USA Today, and Earth Island Journal. He has edited and contributed to several books, including Friends of the Earth Whale Manual, Cougar: The American Lion, and Behind the Dolphin Smile.

Palmer has more than 40 years of experience lobbying in the California State Capitol in Sacramento and in the U.S. Congress in Washington DC on wildlife and wilderness issues, as well as international experience with the Japanese-American Environmental Conference, the International Whaling Commission, and the Inter-American Tropical Tuna Commission. Finally, he is editor of the daily newsletter ECO distributed at International Whaling Commission meetings.

Find out more: https://savedolphins.eii.org/ Please join us for his presentation on Wednesday, April 13th at 7:00pm PT. Watch Mark's Presentation on Vimeo.

Wednesday, March 9, 2022: Hannes Klostermann – "The Best of Baja; Exploring The Wild West": In-Person and Zoom Meeting.
Hannes Klostermann, an award-winning photographer and scuba instructor says, "Baja is a special place. Separating the Sea of Cortez and the Pacific Ocean, the Baja California Peninsula is home to amazing landscapes and incredible wildlife. Due to its unique location, it hosts some of the most impressive animal migrations on the planet, as well as plenty of photogenic residents.

"In this presentation, I will introduce you to some of the area's most exciting animals and explain how to maximize your chances of seeing and interacting with them. From cute baby sea lions to the ocean's largest predators, there's always something interesting to discover. You never quite know what you'll come across when you head out in the morning!"

His Bio: Hannes has a particular passion for capturing images of sharks and other big animals, as well as actively supporting their conservation. He is currently the resident photographer at The Cortez Club in La Paz, Mexico where he offers all services related to underwater photography: workshops and private guiding, as well as photo shoots. Hannes also runs pelagic expeditions for the annual marlin migration.

He began his underwater adventures in 2003 in a dark and very cold lake in Germany and since then, his travels have taken him to many of the world's most exiting diving destinations.

To see more, visit his underwater photography website. Please join us for his presentation on Wednesday, March 9th at 7:00pm PT. Watch Hannes's presentation on Vimeo.

Wednesday, February 9, 2022: Nirupam Nigam, "Northwest Oddities:  Wolf Eels & GPOs & Lumpsuckers, Oh My!". In-Person and Zoom Meeting.
As a dedicated underwater photographer and fisheries scientist, Nirupam is the Editor-in-Chief of the Underwater Photography Guide and the Marketing Director at Bluewater Photo.

While growing up in Los Angeles, he fell in love with the ocean and pursued underwater photography in the local Channel Islands.

Nirupam received degrees in Aquatic and Fisheries Science and General Biology, at the University of Washington, and has collected fisheries data on vessels in the Bering Sea and North Pacific for NOAA.

Check out his work at photosfromthesea.com, his reviews at uwphotographyguide.com, as well as the world's leading source of photo and video gear, advice, education, and dive travel at bluewaterphotostore.com. Watch Nirupam's presentation on Vimeo.

Please join us for his presentation on Wednesday, February 9th at 7:00pm PT.

Wednesday, January 12, 2022: Mary Jane Schramm, "Love Among The Leviathans".
In-Person and Zoom Meeting.

MJ is an unabashed blubber-lover. She has worked in marine conservation since 1982, until recently with the National Oceanic and Atmospheric Administration's Greater Farallones National Marine Sanctuary.

MJ specializes in media/outreach, and hands-on resource protection; this has included NOAA's Stranding Network and Large Whale Entanglement Response Team, and the sanctuaries' shipstrike prevention team.

Past Public Relations Director for The Marine Mammal Center and Oceanic Society Expeditions, she's led extended whale tours in Baja and locally.

A naturalist, author and columnist, she's served on the boards of the American Cetacean Society-SF Bay Chapter, Tamalpais Conservation Club, and now on the Marin Audubon Society's Conservation Committee.

In 1989 at a White House ceremony, MJ accepted the President's Volunteer Action Award. In 2016, she received a NOAA Administrator's Award for assisting in the discovery of the lost shipwreck, USS Conestoga. Now an International Ocean Film Festival judge, she's also working to eradicate invasive mice from the Farallone Islands.

"Love Among the Leviathans" explores how air-breathing mammals like us who live in the sea –– whales and dolphins –– play the DNA Game: courting, mating, giving live birth, nursing, and teaching their young to survive, all in challenging ocean environments.

Many species, even some in our national marine sanctuaries, have still not recovered from past centuries' whaling. They now face modern and emerging threats including shipstrike, entanglement, ocean noise, pollution and climate disruption. Insights we gain from studying their reproductive patterns, behaviors and habitat needs can help wildlife managers, policymakers, and scientists to act effectively to ensure their survival.

Join us for this hybrid live / Zoom meeting on Wednesday, January 12.
Watch MJ's presentation on Vimeo.

Wednesday, November 10, 2021: Mike Book, "Egypt Above and Below". In-Person Meeting Only.

Mike has turned his camera loose in locations worldwide, from the South Pacific to California to Alaska, around the Caribbean islands, throughout the Indian Ocean and Red Sea.

He has worked as the underwater video pro on the live-aboard dive boat Nai'a in Fiji, sells video footage that's been used in commercials and educational videos, and has written video articles for dive magazines and web sites.

His YouTube channel – LaughingEelVideos –– has a goal to help viewers experience being underwater without the bulky scuba gear, heavy tanks, or spitting in your mask. Watch some of Mike's high-definition video shorts.

Join us on Wednesday, November 10 @ 7pm for our last presentation of the year. We will meet at the Sausalito Parks & Rec Center, Edgewater Room, 420 Litho Street,
Sausalito. NOTE: BECAUSE THIS WILL BE A HIGH-DEFINITION VIDEO PRESENTATION, IT WILL LOOK MUCH, MUCH BETTER IN PERSON, SO THIS MONTH'S MEETING WILL BE IN PERSON ONLY AND NOT VIA ZOOM.

Wednesday, October 13, 2021: David McGuire, "Sharktober: Celebrating Sharks from California to China & Connecting Cultures for Conservation", Hybrid In-Person / Zoom Meeting. 

We're proud to host the Founder and Director of Shark Stewards, a project of the Earth Island Institute. In 2003, his non-profit introduced the California shark fin trade ban and has led several states and international movements limiting overfishing of sharks and shark fin trade.

David is an Adjunct Professor at the University of San Francisco, teaching marine policy, and a research associate at the California Academy of Sciences, conducting shark research studies in San Francisco Bay and in Malaysia. He also works in education and monitoring with the Ocean Protection Council and the California Department of Fish and Wildlife in our state marine- protected areas, and with NOAA in West Coast National Marine Sanctuaries.

David said, "An estimated 73 to 100 million sharks are killed for their fins each year. There is much to be done and each of us can play a role."

David has written many articles and three books:

"Sharks for Kids: A Junior Scientist's Guide to Great Whites, Hammer- heads, and Other Sharks in The Sea" –– is now available on Amazon.
He co-wrote "Surviving The Shark".
A third book on sharks and sanctuaries will be published later this year.

He's also produced several award-winning documentaries on sharks, diving, and adventure, and has been involved with the International Ocean Film Festival San Francisco since 2007.

Recent work includes pattern recognition on tiger sharks and manta rays using photography,  algorithms, and applying the data to local conservation.

Join him on Wednesday, October 13 from 7:00 to 8:30pm to learn and discover a new or deeper fascination with sharks. Read more: https://sharkstewards.org/
Watch Dave's presentation on Vimeo.

Wednesday, September 8, 2021: Dr. Pia Winberg, "The Science and Importance of Seaweed", Hybrid In-Person / Zoom Meeting. We look forward to hosting the CEO, Director and Chief Scientist at both Venus Shell Systems and PhycoHealth Seaweed Science.

Situated in the pristine Shoalhaven region, 200km south of Sydney, Venus Shell Systems is at the global forefront of producing unique, traceable, premium quality marine biomass from the unspoiled waters of the Tasman Sea. Their products:

Have been pioneered with a proprietary controlled cultivation and production process.
Are used in their food-grade seaweed extract, PhycoGreen™, a functional food ingredient with high nutritional (up to 40% protein) and bio-functional properties.
Are formulated to the specifications of their specialist partners, using their proprietary PhycoLAB™ process.
Have created Ultra Green, clean carbon dioxide to rapidly grow unique seaweed biomass and extracts for use in biomaterials, cosmetics, dermatological care, food, nutraceuticals and pharmaceuticals.
Join us on Wednesday, September 8, from 7:00–8:30pm for a topic that can positively impact the world's food crisis. Read more about Dr. Pia Winberg:


https://www.venusshellsystems.com.au/

and https://www.phycohealth.com/


Wednesday, August 11, 2021: Mike Bartik, "Blackwater: The Ultimate Photo Op", Hybrid In-Person / Zoom Meeting.  For this meeting –– in person and via Zoom –– MSC proudly presents an underwater photographer residing in Anilao, Philippines and photo pro at Crystal Blue Resort.Originally from Southern California, he has an insatiable love for finding unique marine life and telling its story through photos and video. Mike is a widely published, award-winning photographer, writer, and international public speaker whose work appears monthly in various publications, aquariums, and museums.


He hosts photo clinics, workshops, and seminars at Crystal Blue Resort, concentrating on the different aspects of underwater photography and the natural history of Southeast Asia and the Indo-Pacific.

Mike is also a global ambassador for Sea & Sea underwater imaging, Kraken Sports, Ultralight Control Systems, Retra UWT, and works with many companies to bring quality products to market.

"I fell in love with the ocean at a very young age while growing up in Southern California," he says. "It had a strong pull on me then as it does now. I learned to snorkel while on family vacations in Hawaii, where I also used a camera underwater for the first time.

"I soon became an instant master of shooting fish-butts and the king of backscatter. After learning to dive years later and never without a camera, I decided to find a mentor to help me improve upon my skills, and so it all began.

"Underwater photography has defined my love connection with the ocean and has bridged a gap between myself and others in a way that I never expected it to. Today, most of my time underwater is spent shooting, teaching, mentoring, and learning as much as possible.

"With nearly 6,000 dives under my belt, I feel that I have barely touched the tip of the iceberg and am grateful every day to have embarked on this lifelong journey."

Join us on Wednesday, August 11, from 7:00–8:30pm for a very interesting topic and some truly amazing images.Read more and see many gorgeous images by Mike Bartick at SaltwaterPhoto.com and DiveCBR.com. Watch Mike's presentation Vimeo.

Wednesday, July 14, 2021: Jim Elliott,  Director / Founder of Diveheart.org –– "Scuba Therapy: Imagine The Possibilities" Zoominar. Jim left a successful career in the media business to launch Diveheart.org, a 501c(3) not-for-profit organization that helps build confidence and independence in people of all ages––children, veterans, and others––with disabilities through zero gravity and SCUBA therapy.

Since 2001, Elliott, a volunteer with no salary, has initiated SCUBA Therapy research with university medical centers around the U.S., including the first study on Autism and SCUBA Therapy and the world's most innovative Adaptive SCUBA Training program for instructors, dive buddies, and Adaptive Divers. He also lectures and trains dive pros in the "Business of Adaptive SCUBA".

He'll be joined by Executive Director Tinamarie, a Chicagoan, who was the first in her family to attend and graduate college. She's always found way to give back––through candy striping, coaching softball, teaching Sunday school, or swimming to people with disabilities.

When asked what drew her to Diveheart, she said: "I grew up with a cousin who lived his life with both physical and cognitive challenges. Joey didn't let much hold him back and I just know he would have loved SCUBA had he known about Diveheart."

Join us on Wed., July 14 from 7:00–8:45pm for this important discussion about those less fortunate than ourselves. Read more at www.Diveheart.org and watch this video: tinyurl.com/fudy2xm5. Make a donation. Watch Diveheart's Presentation on Vimeo.

Wednesday, June 9, 2021: Mark Stanley, Co-Owner, "What's New at The Old Bamboo Reef", Zoominar Club Meeting. MSC is pleased to present the co-owner of one of San Francisco's oldest dive shops –– where many of our current and past members were certified.

Mark said, "Diving for over 20 years and teaching for 16 years, diving is my passion and I use any excuse to get underwater. It is one of the reasons I started teaching. "Diving has taken me all around the world and to places I never dreamed of visiting. I have been to the tropical waters of the South Pacific and to the chilly waters of Iceland. I enjoy diving with big animals and so my favorite spots are the Galapagos and Socorro.

"We are fortunate to have an amazing place to dive in our backyard, so I am down in Monterey diving two to three times a month."

After retiring from one profession, Mark Stanley and his son Brian purchased Bamboo Reef San Francisco and Monterey in 2016. The SF shop was founded in 1961 by Al Giddings, then owned and operated by Sal Zammitti from 1972 to 2016. One of the Stanley's goals has been to upgrade and expand services at both shops.

Join us on Wednesday, June 9, from 7:00–8:45pm for an informative discussion on what's new at Bamboo Reef with the latest innovations in dive gear, advanced and technical classes, freediving, monthly fun and upcoming dive trips, its online store, how COVID changed their class structure, and great stories about a lifetime underwater. Watch Mark's presentation on Vimeo.

Wednesday, May 12, 2021: Alex Rose, "From Pole to Pole: Exploration With A Purpose",  Zoominar Club Meeting.  As the Science Editor for Ocean Geographic Magazine, and the Managing Editor for Ocean Geographic Explorers over the past six years, Alex has written more than 50 articles both in print and online. Additionally, she's been published in Alert Diver, Sea Technology Magazine, Womanscape, and has contributed text to three books.

Ms. Rose has served as the Project Manager on several expeditions including two – one to the High Arctic and the other to Clipperton Atoll – that were granted Explorers Club flags.

As a vocal ocean advocate, she has given more than 30 public presentations in the last year on a variety of topics ranging from purposeful exploration and plastic pollution, to climate change and the ethics of underwater photography.

Ms. Rose is also a professional photographer, accomplished violinist, Explorers Club Fellow, and PADI Divemaster. In the last year, she placed in five international underwater photography competitions, including taking second in the UN World Ocean Day Photo Competition, first in the Beneath the Sea Imaging Awards, and Grand Prize in the National Wildlife Photo Contest.

She founded a membership-based ocean conservation company, Blue Ring, at the beginning of 2017 in an effort to create a new method of ocean conservation accessible to and inclusive of everyone. Since then, she has raised $20,000 to support the work of marine conservation nonprofits.

Alex is also a co-founder of Wave Film Fest, a Chicago-based video celebration of our world's waters that saw its inaugural event last year, and is the Secretary of Deep Hope, a nonprofit founded by Dr. Sylvia Earle to build citizen submarines. Her driving goal is to find ways to protect our planet's precious marine habitats through diving, writing, photography, education, and research.

Her presentation: "From Pole to Pole: Exploration With A Purpose" will take you on an extensive journey of her vast diving experiences around the world, sharing photos, and the fascinating stories behind them. Find out more: www.BlueRing.blue. Watch Alex's presentation on Vimeo.

Wednesday, April 14, 2021: Shane Gross, "Bahamas Underwater: A Decade of Exploring the Marine Creatures and Habitats", Zoominar Club Meeting.
Shane Gross, a Canadian marine photojournalist and Emerging League Member
of the International League of Conservation Photographers (iLCP), spent the last decade exploring and photographing the Bahamian archipelago and using those images for conservation gains.

In March 2021, Shane released his book on diving in these special islands. With over 200 pages and 11 chapters on topics ranging from Sharks and Rays to Marine Mammals, to Conch, to Science  and Conservation, he explores the animals and habitats that make The Bahamas so special. See much more at www.ShaneGross.com. Watch his presentation on Vimeo.

Wednesday, March 10, 2021: Marty Snyderman, "Finding and Photographing Fishes & Their Behaviors", Zoominar Club Meeting. Marin Scuba Club is pleased to present Marty Snyderman: a prolific writer, u/w photographer, and videographer who has created magic for decades.

Marty says, "No doubt about it, the amazing diversity in the world of fishes brings many people to diving. But there is a lot more to enjoying the world of fishes than just seeing them and moving on.

"Learning where and when to look for different species, watching fishes go about their daily lives, gaining some understanding of their behaviors, and photographing them can add a lot of fun to diving.

"Certainly, photographing fishes well is an endeavor filled with challenges. But it is also very educational in terms of getting to know Mother Ocean, and it is lot of fun and extremely rewarding when you capture the images you have in mind."

In Marty's "Zoominar", he'll share insights into how to find various fish species in the reef communities and muck at Atlantis Dive Resorts, in Dumaguete, and in Puerto Galera in the Philippines; reveal perceptions into their behaviors; and disclose his thoughts and techniques about what he does to try to capture his fish photographs.

Marty's Bio in Brief.
Honored with the 2018 NOGI Award in the Arts by the Underwater Academy of Arts and Sciences, an EMMY Award winning cinematographer, author of 10 books, a recipient of DEMA's Reaching Out Award, and a widely published still photographer, Marty has worked to conserve and share the magic of the undersea world for almost 50 years.

He serves as the Marine Life Editor of Dive Training magazine, producing at least three columns in every issue including a photography column entitled Behind the Lens, and is the Senior Editor of California Diving News.

Marty's still photography has also been used by the National Geographic Society, Nature Conservancy, National Wildlife Federation, Sport Diver, Diver, Ranger Rick, Smithsonian, Ocean Realm, Discovery books, Discover Diving magazine, Scuba Times magazine, and Skin Diver magazine, where he served as the photography columnist for all three magazines, and many major publications, natural history museums, and aquaria including the Monterrey Bay, Shedd, National, Seattle, and Miami.

He has worked with Nikon Inc. teaching courses at destinations around the world and authored an underwater camera course for Sea&Sea USA.

Marty has been trying to get those perfect shots for almost a half-century. See much more at: www.MartySnyderman.com.

Howard and Michele Hall

Wednesday, February 10, 2021: Howard and Michele Hall, "8K Underwater", Zoominar Club Meeting. Globally noted as the foremost underwater natural history film producers for TV and the giant screen, we are truly blessed to welcome Howard Hall Productions for this month's meeting.

IMAX films produced and / or directed by Howard and Michele include Into The Deep, Island of the Sharks, Deep Sea 3D, and Under The Sea 3D.

The Halls have also contributed to many other giant format productions including The Living Sea, Journey Into Amazing Caves, Coral Reef Adventure, Journey to the South Pacific, Humpback Whales and Lost Worlds.


The Halls have produced numerous television films for PBS Nature, National Geographic, the BBC and other broadcasters.  They are the recipients of seven Emmy Awards.

Watch The Hall's Presentation on Vimeo.

Wednesday, January, 13, 2021: Professor Ezri Tarazi, Design-Tech Lab, The Technion, Israel: "3D Printed Terra Cotta Tiles Create Artificial Red Sea Reefs". Zoominar Club Meeting.  To help combat the death of coral reefs because of global warming, ocean acidification, coral bleaching, pollution, and overfishing, Professor Ezri Tarazi, created artificial reefs, which can attract fish, repopulate reefs, and –– ultimately –– change the world. But he did this by using a 13-foot high 3D printer to make ceramic tiles from terra cotta in the form of lattice structures instead of other materials on the shores of the Gulf of Eilat.Most of the artificial coral reefs are about 3 meters (10 feet) high by 1 meter (3 feet) across, which are constructed to attract different types of fish species with different colors of coral  made from 100% terra cotta material.Approximately 50 species of fish are now hiding, laying eggs, and sleeping in the world's first 3D-printed bioplastics and ceramic reef in the Red Sea. These manmade reefs could be the key to rebuilding our ocean's dying coral reefs. Watch Professor Ezri Tarazi's Presentation on VimeoWednesday, November 11, 2020: Dottie Frazier, Trailblazer and Diving Pioneer. Zoominar Club Meeting.
This 98-year-old woman was the world's first female SCUBA instructor, commercial diver, dive shop owner, and more. Buy her book: https://tinyurl.com/y4qyz29c
Barely 5' tall and weighing about 100 lbs. dripping wet, she was usually wet during her remarkable and adventurous life. A Long Beach native:
• She started ocean swimming as a child in the 1920s, then surfing, skin diving and spearfishing.
• In the 1930s, she became a skin diving instructor.
• In the 1940s, she was a Rosie the Riveter" and a commercial fisher.
• In 1950, she became a charter member of the Long Beach Neptunes dive club.
• In 1955, Dottie became the world's first certified female scuba instructor, began two years as a hard-hat diver, was the first female dive shop owner, and was even a wetsuit manufacturer for the U.S. Navy.
• In 2000, she was inducted in the Women Divers Hall of Fame.
• In 2019, she was honored with the Historical Diving SocietyDiving Pioneer Award.
Watch Dottie Frazier's Presentation on Vimeo.Wednesday, October 14, 2020: Biologist Bill Keener of The Marin Mammal Center, Zoom Meeting, "Tales of Urban Whales: San Francisco Bay's Cetacean Restoration".Bill will present the results of the latest studies on the cetaceans (whales, dolphins and porpoises) of San Francisco Bay. The improved health of the Bay has given three species the chance to thrive: humpback whales, bottlenose dolphins and harbor porpoises. This is a good news story about how these fascinating animals have adapted to life in urban waters.For the past four summers, an unexpected influx of humpback whales has been swimming through the Golden Gate to feed in the Bay. Meanwhile, bottlenose dolphins have expanded their range north from Southern California to become residents along the shores of San Francisco, and harbor porpoises returned to the Bay after an absence of 65 years.Here's your chance to learn from a local scientist about the lives of great whales, the difference between porpoises and dolphins, and what you can do to help in the study of our local marine mammals.Wednesday, September 9, 2020 
Duane Silverstein, www.Seacology.org, Zoom Meeting, "Island Conservation Program"Since 1999, Duane Silverstein has been the Executive Director of Seacology, an international non-governmental organization with the sole focus of preserving islands – their fragile habitats, vanishing species and historic cultures – throughout the globe.Before heading Seacology, Duane was the executive director of the Goldman Fund, one of California's largest philanthropic foundations, for 18 years. He was instrumental in creating and heading the Goldman Environmental Prize, which has been dubbed the "Nobel Prize of the Environment" by National Geographic and news media around the globe. Over his career he has visited more than 200 islands in 83 nations.Duane has met with presidents of the U.S., Secretaries-general of the United Nations, kings, heads of state, and indigenous chiefs throughout the world on behalf of the environment. His work has been covered in media such as Time Magazine, The San Francisco Chronicle, and The New York Times. Articles he has written have appeared in over a dozen international publications.In 2009 he was selected by a public vote as a national All-Star Among Us to be honored by Major League Baseball at the All-Star Game in St. Louis. In 2010, Duane was given the Jefferson Award for Public Service. In giving Duane a 2010 Coastal Hero Award, Sunset Magazine called him a "superhero of the deep." In 2012, he was invited to give the closing speech on the state of the Earth's islands for the TEDx conference in South Africa's Cape Town. In January 2015, His Serene Highness Prince Albert II honored Duane on behalf of Seacology for outstanding innovation in a ceremony in Monaco.Widely considered one of the world's foremost experts on islands, he is a National Fellow of The Explorers Club and a Fellow of the Royal Geographical Society. In 2018, he accepted the United Nations Momentum For Change climate action award on behalf of Seacology. Under his leadership, Seacology was named one of the top 15 US nonprofit organizations to work for. In 2019, Duane was named a Go Blue Award Lifetime Achievement Honoree.Duane has logged hundreds of dives in some of the world's most exotic sites.
Watch Seacology's presentation on Vimeo.Wednesday, August 12, 2020 
Amos Nachom, Big Animals, Zoom Meeting
"In Harmony with Ocean Giants: Authentic Capture of Wildlife Behavior"
He has swum with blue whales, killer whales, crocodiles, great white sharks, and anacondas in every significant body of water from the North Pole to Antarctica.
Amos's photographic vision is to raise awareness of ocean giants in their habitats. His images reflect respect and compassion for animals and wilderness. His photographs strive to dispel the myth of "dangerous" wildlife and show harmonious interactions between man and animal. As an explorer, he leads wildlife photography expeditions through www.BigAnimals.com.
But photographing a polar bear face to face in the open ocean had eluded him until he starred in a 2019 documentary –– "Picture of His Life" –– winner of multiple film festivals. Many club members had the pleasure of seeing this amazing film pre-COVID at the Rafael Theatre. Watch Part 1 of this Zoom presentation on Vimeo. Watch Part 2 of this Zoom presentation on Vimeo.Wednesday, July 15, 2020
Adam Ratner, Associate Director of Conservation Education,
The Marine Mammal Center
"Behind The Bark: Saving Seals and Sea Lions in California"
TMMC rescues between 700-2,000 sick and injured seals, sea lions and other marine mammals each year from over 600 miles of the California coastline as well as the Big Island of Hawai'i.
Adam will discuss how seals and sea lions serve as sentinels of the sea, providing a glimpse into the ocean's health and potential consequences of our actions on land.
As a Zoom meeting, invites will be sent the week of July 13. Watch it on Vimeo.
Wednesday, June 17, 2020
Ken Smith, Founder of Undercurrent
MSC hosted its first ever Zoom meeting for June vs. an in-person gathering and we were very pleased with the results. Ken Smith, editor and founder of Undercurrent, shared stories about how he:
• Became fascinated with scuba diving –– thanks to a book by Larry Clinton!
• Started what he affectionately calls "the most despised publication in the dive industry" – – a Jamaican resort that was miles from a great beach shown in a magazine story, had very little food, and no fish to see while diving
• Why he refuses to accept advertising for his monthly newsletter and annual The Travelin' Diver's Chapbook –– so he won't be beholden to sponsors
• How he determined his nom de plume
• And how he chooses authors – from great reviews that divers write
Watch this Zoom meeting on Vimeo.THIS MEETING HAS BEEN CANCELLED.
Wednesday, May 20, 2020
Mike Scott, Seacology's Island Conservation Program.
Details to come: Moved to September 9, 2020 at the Sausalito Parks & Rec Center, Game Room.THIS MEETING HAS BEEN CANCELLED.
Wednesday, April 15, 2020
Bill Keener, Marine Mammal Center: "Whales and Porpoises".
He was formerly with the Golden Gate Cetacean Research Center. Details to come.
This meeting has been moved to October 14, 2020 at the Sausalito Parks & Rec Center, Edgewater Room.THIS MEETING HAS BEEN CANCELLED.
Wednesday, March 18, 2020
Adam Ratner, Behind The Bark – Saving Seals and Sea Lions in California.
Adam is the Associate Director of Conservation Education with the Marine Mammal Center, a global leader in health, science and conservation, and the world's largest marine mammal hospital. Join us to hear about the latest stories of their patients, new marine mammal health research, and what actions we can take as individuals and communities to help protect marine mammals and ourselves for future generations.
Meeting at Book Passage, Corte Madera.Wednesday, February 19, 2020: Mike Book: Seven Weeks in Indonesia.
Mike and his wife took two trips in 2017 and hit all the hot spots: muck diving in Ambon, Lembeh, and Bali, and cruising the Banda Sea, Raja Ampat, and Komodo. Join Mike, a local underwater videographer, for this highly anticipated showcase.
Meeting at Book Passage, Corte Madera.Wed., Jan. 15, 2020: Vince Smith — Blue Endeavors and Citizen Science Underwater
This 501(c)(3) nonprofit creates advocates for the ocean. They educate people –– through scuba diving training and citizen science curriculum –– on how to minimize our impact on the oceans and take action to create positive change. Vince is a lifelong diver with a marine science and education background. He and a team of volunteers founded Blue Endeavors in 2012 to promote ocean conservation, offer an array of training courses, mentors programs and scholarships; foster the next generation of leaders and innovators, and create cohorts of lifelong ocean advocates. www.blue-endeavors.org.
Meeting at Book Passage, Corte Madera.Wed., November 20, 2019
Iara Mandyn, Exploring the Underwater World of Freediving.
She is a freediving and mermaid instructor at Bamboo Reef Scuba Diving Centers in San Francisco. Erena Shimoda, who presented earlier this year, attended a few of her workshops.Specializing in underwater photography and performance work, she started at Fathom Films in 2009, which was the Bay Area's only dedicated underwater shooting studio. She's also been a choreographer, u/w talent coach, and model.Freediving is about more than deep dives and competition; it's an entirely unique way to experience the underwater world. Learn about the freedom of diving on your own breath, what it takes, and how to get started. Whether you're a seasoned scuba diver or someone who's never been diving before, freediving is a great way to increase your comfort in the water and provide opportunities from spear fishing to swimming like the mermaid you've always wanted to be.Iara practices freediving and breath hold training. Her personal best static underwater is 5:30 and 3:50 for dynamic; she can freedive up to 109 feet.
Meeting at Book Passage, Corte Madera.Wed., October 16, 2019
Tristin McHugh, North Coast Regional Manager with Reef Check, will present "Phase Shift from Kelp Forest to Urchin Barren Along California's North Coast".As a kid, Tristin, MS, UC Santa Cruz, was always knee deep in some water system. Becoming a scientific diver helped her find a niche in studying the underwater environment and changed her life."The idea of protecting such an invaluable resource, kelp forest ecosystems, by using research divers and technicians filled me with admiration for the marine science field and those who were so deeply engrossed in the conservation efforts," she said.Founded in 1996 by marine ecologist Dr. Gregor Hodgson, the Reef Check Foundation is a global NPO dedicated to conserving two ecosystems: tropical coral reefs and California nearshore rocky reefs and kelp forests. Volunteer today, visit www.ReefCheck.org or email tmchugh@reefcheck.org.
Meeting at Book Passage, Corte Madera.Wed., September 18, 2019
Richard Woulfe: Travel Secrets for Insiders.
Richard has been traveling the globe most of the time for over 30 years. He has dived in hundreds of remote and pristine locations in the Coral Triangle area of Philippines, Indonesia, Papua New Guinea, and East Malaysia and logged over 5,000 dives. He has travelled to over 110 countries and lived in five of them for extended periods of time. He serves thousands of travelers in the pursuit of better decision making. Bring your dive and water adventure travel questions. Read more at RichTravels.com
Meeting at Book Passage, Corte Madera.Wed., August 21, 2019
Marin Scuba Club Presentations: "Recent Dive Trips". Join us for a variety of cold and warm water images and videos, including Barbara Wambach and dive club friends: Roatan, Big Sur Coast, American River Salmon Snorkeling; Julie Finley: Palau; Virginia Bria: Cuba, Raja Ampat and The Coral Triangle; Bryan Eckert, The Red Sea; plus various club members will share photos and videos of 2018-2019 trips.
Meeting at Book Passage, Corte Madera.Wed., July 17, 2019
Steve Ralston, "The Elephant Seals and Año Nuevo: Back from Oblivion". Details to come. Meeting at Book Passage, Corte Madera.
A retired Federal Supervisory Research Fishery Biologist, Steve worked for NOAA's National Marine Fishery Service (NMFS) for over 30 years. While studying the Hawaiian deep sea handline fishery, he earned a PhD at the University of Washington, then started his career with the NMFS in Honolulu.Steve later transferred to the NMFS Laboratory at Tiburon where he began his studies of rockfish (Sebastes spp.), coordinating an annual 45-day midwater trawl survey of California waters designed to estimate the reproductive success of 10 commercially important rockfish stocks.He served on the Pacific Fishery Management Council's Groundfish Management Team and Scientific and Statistical Committee, where he conducted stock assessments and supervised efforts to rebuild overfished rockfish stocks.Upon retirement, he joined his wife Donna and became a docent at the State's Año Nuevo Preserve, where he has been leading visitor tours of the elephant seal colony since 2012.Wed., June 19, 2019
Joshua Russo, "Northern California Recreational Urchin Removal".
Meeting at Book Passage, Corte Madera.Josh offered a full briefing relating to all things urchin and abalone.
"We need as many divers as possible to participate in these events," Josh says. "We utilize all skills, free dive and SCUBA and all levels. We also use kayakers to ferry full collection bags from the divers to boats and empty bags back to the divers. If you dive, boat, kayak or are just interested in helping in any way, come join us."Wed., May 15, 2019
Jon Edens, Marin Diving Center on the latest gear for safe diving, trips for novices to advanced divers, and a prize raffle. His presentation will focus on:
• Being a safe diver.
• Mental and physical preparation.
• Equipment preparation.
• Practicing your diving skills.
• Fun, safe diving.
• The latest trends and newest equipment.
• Plus local and tropical destinations.
Meeting at Book Passage, Corte Madera.Wed., April 17, 2019
Erena Shimoda, Underwater Portrait Photographer: "Total Immersion Has The Power to Remind Us of Who We Really Are". Born and raised in Tokyo, Japan, Erena received her Divemaster certificate in Venezuela in 2005, and began shooting underwater photographs in Thailand, Bonaire, Bahama, Corsica, Cozumel, Cancun, and Hawaii.Specializing in underwater portrait photography, her background in New Media and Fine Art helps her create unique compositions in different media. Erena pioneered underwater transformative photography after surviving a car accident in which she lost her father and was severely injured. By combining total immersion with portrait photography, she discovered a powerful therapy that can help others traumatized by physical disabilities, domestic violence, and PTSD. She knows that the power of water healing combined with the creative process heals body and mind.Her work has appeared on local and national networks. See more about Erena: https://erenashimoda.com/and http://underwaterhealer.com/Wed., March 20, 2019
Todd Steiner, "A Protected Superhighway for Turtles and Sharks".  Meeting at Book Passage, Corte Madera.Galapagos Islands, the inspiration for Darwin's Theory of Evolution, and Cocos Island, a place so amazing that Jacques Cousteau called it the "most beautiful island in the world", have some of the highest underwater shark biomass ever recorded.The marine fauna at these two International Biosphere Reserves also include highly endangered migratory species such as scalloped hammerhead sharks and leatherback sea turtles. Recent research indicates movement of these species between the islands, and once outside the marine reserves, they are not afforded protection from fishery pressures.His lecture will introduce you to Cocos Island's underwater wildlife, the political initiatives to create the first "swimway" for highly migratory marine species connecting the National Parks of two nations, and how you can help, including as a volunteer scientist on a Cocos Island research expedition! Read more:
https://seaturtles.org/our-work/our-programs/cocos-island/Wed., February 20, 2019
Patrick Webster, Monterey Bay Underwater Photographer / Videographer, "No Simple Answers–The Kelp Forest Under Siege". Meeting at Book Passage, Corte Madera.California's kelp forests are at the center of the Golden State's diving community––but the kelp needs our help. Exploding sea urchin populations, climate change, sea star wasting syndrome––what's going on? What can we do? And where are the otters?!Wed., January 16, 2019
Kirsten Treais, Amazing Adventures Travels, "Close Encounters of The Cool Kind".This presentation will showcase the Cayman Islands dive scene; whale encounters in Dominica, the Dominican Republic's Silver Banks and Tonga; plus a safari + sharks dive combo with the Big 5 of South Africa. Kirsten will share images and stories about scuba diving with friendly sharks, horseback riding through the rainforest and venturing out in a jeep across the vast African savannah.
Meeting at Book Passage, Corte Madera.Wed., October 17, 2018
Jason Bradley, "Lions, Tigers and Bears"Jason is a highly regarded nature and underwater photographer based in Pacific Grove on the Monterey Peninsula. His unique sets of skills enable him to be equally adept at capturing images both below the surface and on land.His October presentation will feature a selection of some recent expeditions from African wildlife, to tiger sharks from the Bahamas, to bears from the Great Bear Rainforest in British Columbia.Visit Jason's site to see more of his work, to receive more information about fine art printing, his upcoming workshops and expeditions, and upcoming events: www.BradleyPhotographic.com, www.BradleyPrintServices.comand
www.bradleyphotographic.photoshelter.com/indexWed., September 19, 2018
David McGuire, "Shark Rescue: Saving Them From Overfishing
and The Shark Fin Trade"David McGuire is the founder and director of the Ocean Health and Shark Conservation nonprofit Shark Stewards. He's earned an enviable reputation as a sailing captain, dive master, filmmaker, educator and ocean explorer, producing media with an emphasis on shark conservation and ocean awareness.His September presentation will feature updates about http://www.SharkStewards.org, which has worked to establish shark fin regulations in 12 U.S. states since 2006, and is currently supporting the U.S. Shark Fin Trade Elimination Act.Wed., August 15, 2018
Ken Howard, "Photographing Large Marine Animals"A Marin County resident since 1971, Ken was SCUBA certified in 1972, and got his advanced certification in 1973, the same year he took his first u/w photographs.His August presentation will feature images of large marine animals taken on recent trips, including the Revillagigedo Islands (250 mi SW of Cabo) for giant pacific mantas; Dominica (Caribbean) for sperm whales; and Isla Mujeres (near Cancun) for whale sharks and sailfish.But wait, there's more! There will be photos and stories for grey whales (Mexico); the Amazon (Brazil) for river dolphins and more; and the San Juan Islands (WA State) for orcas.If you're not on a trip yourself on Aug 15th, this show at Book Passage is not to be missed! See more of Ken's amazing work at: http://www.seaimages.org/Wed., July 18, 2018
Dr. Cynthia Catton, "Causes and Consequences of
Large-Scale Bull Kelp Loss in Northern California".Dr. Cynthia Catton is an Environmental Scientist based in the Bodega Bay field office at the UC Davis Bodega Marine Laboratory. She's studied California kelp forest ecology and abalone population dynamics for more than 15 years.She's currently spearheading a large collaborative effort to support the recovery of the bull kelp forests in Northern California.These underwater forests have declined by more than 90% of historic abundance due to environmental and ecological stressors. The consequences? They've been devastating to coastal communities that rely on strong tourism and on fisheries. Dr. Catton will describe the series of events that have led to the current ecological crisis and the collaborative efforts underway to support the kelp forests' recovery.Wed., June 20, 2018
Marin Scuba Club Presentation: Banco Chinchorro, Mexican Mayan Riviera.
Join us at our June meeting as a cadre of Marin Scuba Club divers join forces to present videos and images from an October 2017 journey to the warm waters of Banco Chinchorro on the Mexican Mayan Riviera near the Belize border."Fourteen club members visited Banco Chinchorro for the first time in October," said Barb Wambach, MSC Activities Coordinator. "The most exciting diving was the banc, a one-hour ride from Mahaual, Mexico," she added. "The wrecks on the outer side of the reef were the best that I'd ever visited –– laying in 25-35 feet of clear water, abundant with sea life and extremely colorful. The banc also featured large animals: leatherback turtles, eagle rays, stingrays, nurse sharks and reef sharks, as well as approximately 500 American crocodiles.If you have some videos or images to share with the Club, please get them to Barb ASAP.Wed., May 16, 2018
Paula Butler, "Salaya Beach House in The Indonesia Coral Triangle: Wow in Dauin".
Paula's love for the sea and photography were the two major factors in her decision to leave her job as a corporate VP and make diving a central focus in her life.Now working in Marketing and Customer Relations for Salaya Beach House, she promotes a luxury beachfront dive and yoga resort situated in Dauin, just 15km south of Dumaguete City, and located in the "Coral Triangle" – Earth's center of bio-diversity in the Philippines.The beach is black sand, a beautiful backdrop for the marine life thriving in the sanctuary. The diving along the coast offers sandy bottoms, coral reefs and wall
diving around neighboring islands. Plus, the turtle sanctuary at Apo Island has long been listed in the top ten dive sites of the world.Wed., April 18, 2018
Club Meeting: Jodi Frediani, "The Not-So-Secret Life of Humpback Whales on Their Breeding / Calving Grounds". 7:15 – 8:45pm. Book Passage, Corte Madera. $5 for non-members.
Jodi is a Santa Cruz-based photographer and whale researcher. She's been swimming with and photographing humpback whales in the Dominican Republic's Silver Bank for 16 years, and has also been capturing the marine life of Monterey Bay for eight years, while taking time off for photographic adventures to Africa, Alaska, Brazil, Argentina, Antarctica, Thailand and Tonga.Wed., March 21, 2018
Club Meeting: Judith Selby Lang and Richard Lang, "Nurdles and The Apocalyptic Sublime". 7:15– 8:45pm. Book Passage, Corte Madera. $5 for non-members.
Since 1999, Richard Lang and Judith Selby Lang as a collaborative team have been visiting Kehoe Beach, Point Reyes National Seashore in Northern California. They have rambled 1000 meters of tideline of this one beach hundreds of times to gather plastic debris washing out of the Pacific Ocean and from this one beach have collected over two tons of material.
Nurdles are almost impossible to see until one learns what they are and how to differentiate them from a piece of shell or fish egg. Once recognized, you see numbers of them scattered across sand.Wed., February 21, 2018
Club Meeting: "Signals of our Troubled Ocean" from the Arctic across the Indian Ocean, Australia, Pacific Ocean and Antarctica –– all the splendours of our ocean are sending us signals of trouble… Are we listening?, Michael AW and Friends.
7:00 – 8:45pm. Bay Model Visitor Center, 2100 Bridgeway, Sausalito.
Co-hosted by Marin Scuba Club, No. Cal. Underwater Photographic Society, the SF Bay Area Chapter of the American Cetacean Society, and other local dive clubs.
$5 for non-members.Wed., Jan. 17, 2018
Club Meeting: "Mission Blue" Featuring Kip Evans, Dr. Sylvia Earle's Director of Photography and Expeditions. 7:15– 8:45pm. Book Passage, Corte Madera.
$5 for non-members.Dr. Sylvia Earle is the world's most famous female oceanographer and diver. Her Director of Photography and Expeditions for "Mission Blue" is Kip Evans –– and MSC is thrilled to host him at our upcoming meeting.Award-winning filmmaker, photographer, and explorer Kip Evans has led or participated in more than sixty expeditions throughout the world, including recent assignments in Antarctica, Costa Rica, Chile, and the Galapagos Islands. As a photographer, he has worked on dozens of National Geographic Society projects since 1998, including the five-year Sustainable Seas project to explore and document the U.S. National Marine Sanctuaries. As a cinematographer, Kip's films have been featured at film festivals around the world and he has contributed work to all the major television networks including National Geographic, BBC and Discovery. Kip joined Dr. Earle's Mission Blue foundation as the Director of Photography and Expeditions, documenting "hope spots," critical areas around the world's ocean that need protection in 2008. As a diver and submersible pilot, Kip holds a number of certifications and spent 17 days living underwater at the Aquarius Habitat as part of Mission 31.  He was recently honored as the 2016 Ocean Hero recipient by the San Francisco International Film Festival.PAST EVENTSFri., August 25 – Sun., August 27, 2017
Camping at Emerald Bay and Scuba Dive Weekend in Lake Tahoe.
Ken Carter, our Special Program Coordinator, invites you to his planned trip for August: the Tahoe Camping, Diving, Mountain Biking, Grilling, Chilling, and other "ings" extravaganza. Ken has reserved two campsites at Emerald Bay State Park.
The trip costs $10 pp + vehicle parking.
If you're doing altitude certification, Jim is discounting the rate to $100 pp.
Contact kc@marinscuba.org for more information and availability.Fri., Sept. 8 – Sun., Sept. 10, 2017
Fall Dive & Dine
Save the Date! Van Damme State Park. $25 campers.
Contact blwambach@comcast.net for details.Sat., Sept. 16, 2017
Coastal Cleanup Day @ Kirby Cove + BYOB Picnic. This is a proposed activity. Details and contact information to come.Wed., Sept. 20, 2017
Club Meeting: Michael Webster, Coral Reef Alliance. "How Will Coral Reefs Survive The Next Century?" Book Passage, 7:15–8:45pm. $5 for non-members.Wed., Oct. 18, 2017
Club Meeting: Nora Hall, The Hydrous. 7:15–8:45pm. Book Passage. $5 for non-members.Wed., Nov 15, 2017 
Club Meeting: Michael Stocker: Fish Ears, Lobster Creaks, and Whale Songs. 7:15– 8:45pm. Book Passage. $5 for non-members.

Howard is a member of the Directors Guild and Academy of Motion Picture Arts and Sciences; Michele is a member of the Woman Divers Hall of Fame and the Academy of Television Arts and Sciences.

The Halls currently have two films in production.  One is an IMAX film called Secrets of the Sea scheduled for release in Spring of 2022.  The other is a 4K documentary feature called Soul of the Ocean presently in post-production. Read more.
Watch The Halls' Presentation on Vimeo.